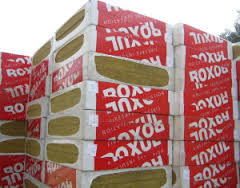 Roxul Rockwool is a high quality resin-bonded mineral wool with excellent thermal, acoustic and fire safety property's. Roxul Rockwool comes in a variety of forms and thicknesses with operating temperatures of 300c up to 750c.

Product Range
PRODUCT TYPE THICKNESS mm DESITY kg⁄m3
Party Wall Firestop 1100 Bat 168 115 (4hr FRL)
Fire Stop Damper Strip Bat 13 115 (4hr FRL)
Multi-Purpose Slab Slab 25, 38, 50, 75, 100 50, 60, 80, 100
Foil Faced Blanket Roll 50, 75 50, 60, 80, 100
Bare Blanket Roll 50, 75 50, 60, 80, 100
Wired Mat Roll 25– 100 Various 80, 100, 140, 160
Boiler Slab Slab 25– 100 Various 110 (nominal)
SPI Pipe Insulation 21.3 – 812 Pipe O.D
25, 38, 50, 63, 75 Wall
120, 125, 150 (nominal density)
Rockpipe Pipe Insulation 25– 100 Various 142-178, 200,
Roxul Rockwool others a complete range of products for the Commercial, Residential, Industrial and HVAC market.
The Roxul Rockwool range is equivalent to and in most cases exceeds the performance criteria of similar mineral wool Products.
Not all products are stocked and lead times may vary according to the quantities and type of product ordered. Sizes, densities and stock availability are available on request.